MR.EE Series: 
Stainless Steel Reinforcement Plates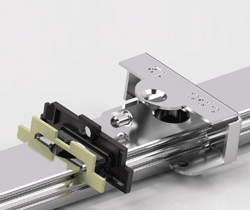 The block is fully covered by two stainless steel plates over the two plastic end caps.
The addition of the steel plates reinforces the internal plastic structure and gives it much more rigidity. It allows the block to operate at much higher running speeds; up to 5 m/s.
The design maintains minimal clearance between the stainless steel plates and the rail. The plates stainless steel act as both structural reinforcement and as a scraper.
MR.ZZ Series:
Lubrication is applied through two oil-injection holes located on either end of the block.When injected, the lubricant passes through the hole and over the stainless steel balls. The recirculation movement of the balls then transfers the lubricant onto the rail profile.
Most recently designed CPC MR..ZZ blocks features embedded lubrication pads; this significantly lengthens the interval between re-lubrication, thus reducing maintenance costs.
The MR Series Highlights:
High load, high moment function
Unique ball re-circulation design
Embedded inverse hook design
Steel plate reinforcement design
Dust proof design
Lubrication storage design