Steel as the main material for the manufacture of bearings
Bearing manufacturers have standardized using AISI 52100 steel for manufacturing bearing rings and rolling elements. Rings are heat stabilized to a minimum of +150 C.
Many if not most applications use Chromium steel bearings where the bearing is protected from harsh environmental conditions.
When stainless steel is required or requested all manufacturers offer AISI 440C . Grade 440C stainless steel is a carbon martensitic stainless steel. Having high strength, moderate corrosion resistance, good hardness and wear resistance it is an ideal choice for bearing manufacturing.
In practice 440C is not a solution for applications in moisture or other corrosive environments.
In saline tests we have conducted 52100 chrome steel rusts at a faster rate than does 440C stainless. Both fail when it comes to rust prevention. In recent years both ceramics and Cronoduir 30 are much more suited for use in hostile environments.
Cronoduir 30 is a stainless martensitic steel having greater corrosion resistance than 440C and is longer wearing:
superior corrosion resistance, higher than 1.2083, 1.4112,1.4301, 1.4571
high dimensional stability after heat treatment
high durability by maximum hardness under static and dynamic demands
good wear resistance, higher than 1.4034, 1.2363 or 1.4528
tougher and secondary hardening alternative to all corrosion resistant PM-steels
high temper resistance up to 500 °C
Cronoduir 30 rings used in conjunction with ceramic balls provide an excellent tribological behavior. Combining Steel and ceramic producing a hybrid bearing improves lubricity and reduces material strain. Low density means the mass is 60% lower than steel and with the centrifugal forces on the rolling elements the kinematics of the bearing are greatly improved.
Bearing rings
hardened. AISI 52100 steel contains approximately 1% carbon and 1.5% chromium. Cronoduir in comparison has a significantly finer structure resulting in less heat generated with the permissible contact pressure higher.
Rolling elements
The rolling elements transferring the loads between the inner and outer rings are typically made from the same steel as the rings. So in the case of 52100 standard bearings use 52100 balls and cages and shields. Stainless steel 440C rings would use 440C balls, cages and shields. In the case of Cronoduir 30 to the contrary it is common for the use of ceramic rolling elements. In the case of super precision bearings used in high speed spindles and other demanding applications the Hybrid model using Cronoduir or 52100 chromium rings along with ceramic balls increases speed and life.
Cages
Cages which separate the rolling elements are typically made from (1) Machined metal, (2) stamped metal, steel pin type and polymer.
Cages vary dependant upon customer and the demands of each application.
For example stamped metal cages are very light weight and are good in high temperatures.
Machined metal cages are manufactured from steel, or brass and are good in high speeds, high temperatures, high accelerations and vibrations.
Polymer cages are usually PA66 or PA46 but other material variations are also used by different manufacturers. Polymer cages are almost frictionless and are consequently used in high speed applications. The use of polymer cages is beneficial in poor lubrication environments as they can continue operating as the material is self lubricating
There are several cage materials and designs. When selecting you will consider the application's requirements and finding a suitable design is paramount to success.
Here are some examples of various materials and  standard designs. There are many others including the two piece ribbon and one piece crown type.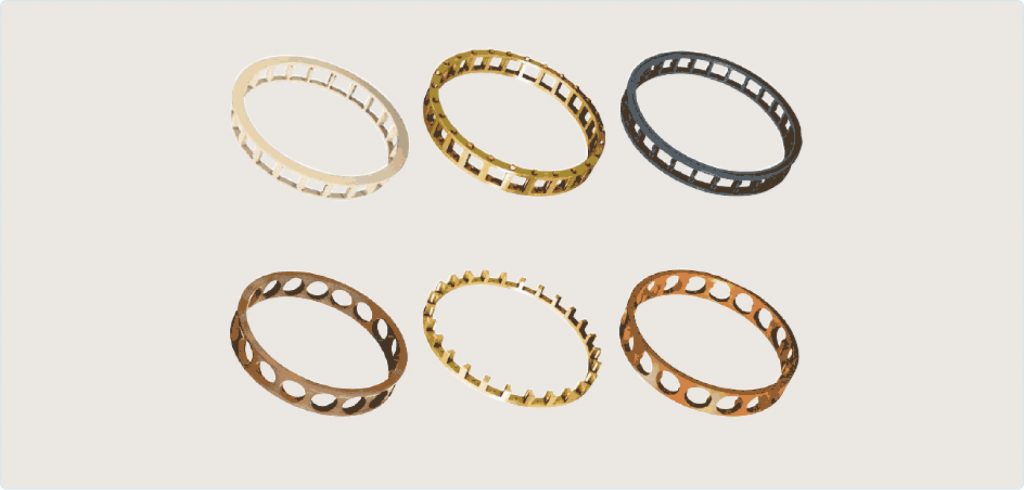 Shields
Shields are usually made from strip stainless or chromium steel. Rubber seals usually are manufactured from Buna N Nitrile rubber bonded to a steel shield. Teflon seals are another option from many manufacturers.
Still have questions? Contact us.