What are miniature, micro, or small bearings?
Miniature bearings sometimes referred to as micro bearings or small bearings are small dimensioned bearings that range in size from .1181 inch to 1 inch in outer diameter.
Pacific International specializes in stocking and the sale of miniature-bearing brands such as NMB, NHBB, ISC, RMB, NSK, and many others.
NMB Bearing
NMB Bearing company is a company that specializes in high-volume production while maintaining excellent quality control. NMB bearings are the best value in small miniature bearings in the market.
NMB Technologies Corporation is a subsidiary of NMB (USA) Inc., the North American headquarters and operating center of the Minebea Group of Companies.
Minebea Co., Ltd., was established in 1951 as Japan's first specialized manufacturer of miniature ball bearings. Today, the Company is the world's leading comprehensive manufacturer of miniature ball bearings and high-precision components, supplying customers worldwide in the information and telecommunications equipment industry, as well as the automotive, medical, aerospace, industrial and household electrical appliance industry.
The Minebea Group consists of 49 subsidiaries and affiliates in 14 countries, including Japan, Thailand, Cambodia, Singapore and China, as well as several others in Europe and the Americas. The Group maintains 29 plants, R&D facilities and 44 sales offices, and employs over 54,000 people worldwide.
Where are NMB bearings made?
NMB's miniature and small ball bearings are manufactured in Thailand and Singapore, and range in size from .1181 to 1.000 inch, outside diameter, providing high performance within a small envelope design.
NMB Technologies Corporation's domestic headquarters are located in Chatsworth, California. Highly trained application engineers, experienced product managers and Pacific International Bearing located in Union City California work closely with customers to develop the most cost effective solution for today's challenging applications. Pre-design and after- delivery follow up assure complete customer satisfaction.
NMB ball bearing
NMB's main ball bearing product is the single row radial deep groove ball bearing. Deep groove radial ball bearings with shields or seals are available to provide protection from contamination and grease leakage. Flange type and snap ring type bearings are available for improved housing fits. NMB also produces ultra thin type radial ball bearings, thrust ball bearings, and bearings.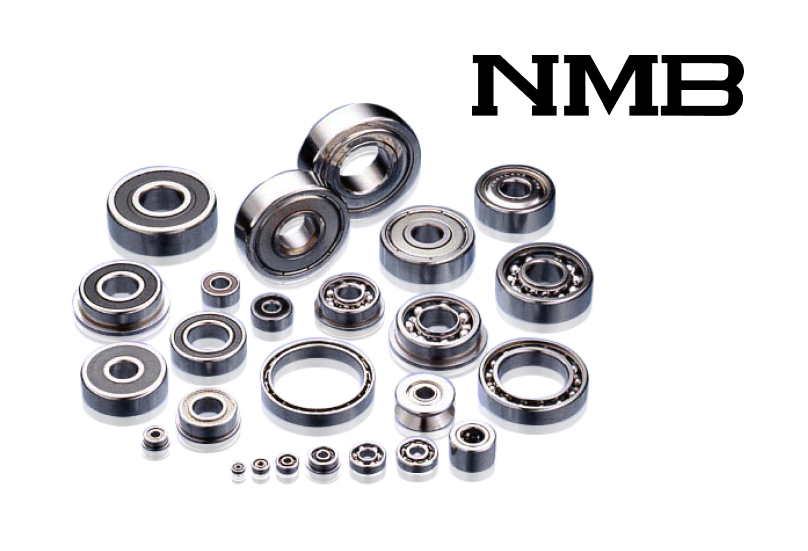 As with all bearings there are miniature bearing manufacturers who specialize and excel in certain sizes and types and for special applications.NMB is the best choice for large volume bearing production such as for 608 bearings which are the most popular size specified in numerous applications from small power tools to roller blades and many other applications to long to list.
ISC/NSK bearing
Another notable brand of higher precision is ISC/NSK bearing company with headquarters in Tokyo Japan. ISC/NSK's head office is located in the Kanda Nishiki-cho Hirose Building in Chiyoda-ku, Tokyo.The sales offices are located in Osaka and Matsumoto.
Fujisawa factory is the main bearing manufacturing facility with a clean room.
Matsukawa factory was established in 1973. Matsukawa factory is fully automated and state of the art.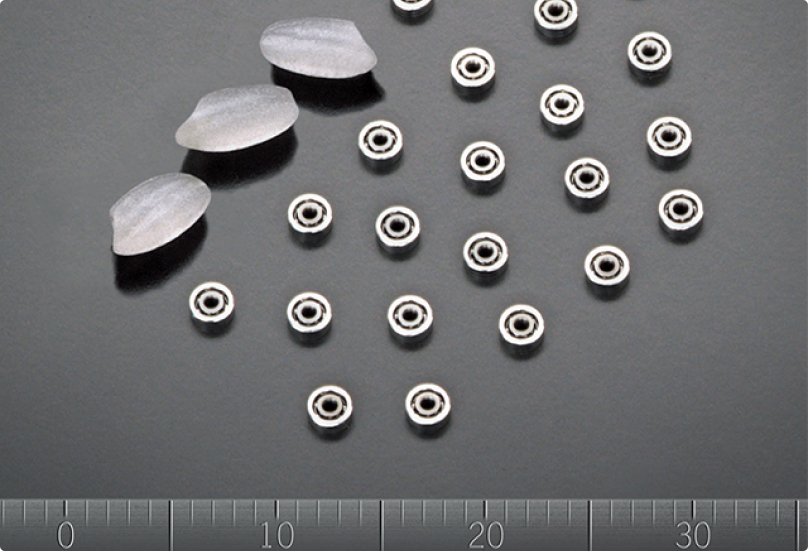 NSK/ISC bearings have created the World's smallest class deep groove ball bearings making full use of outstanding technologies cultivated through years of precision ultra-small size bearing ISC/NSK production personnel have managed to produce the world's smallest ball bearing *(OD:2mm, ID:0.6mm) and have made a breakthrough for size minimization for application for us in IT and medical applications.
In addition to producing the smallest miniature bearings ISC/NSK bearings produce bearings to the highest International standards.
Super high precision low noise ball bearings.
Satisfied international standard of "AFBMA ABEC-5 (JIS P 5 grade)".
Anti-rust stainless steel material is used.
ISC/NSK single row ball bearings
The raceway grooves in the inner and outer rings are radial ball bearings that form a circular arc cross-section with a slightly larger radius than the radius of the rolling ball. Besides radial load, axial load in both directions can be loaded. Friction torque is small, and it is most suitable for applications requiring high-speed rotation and low noise / low vibration.
ISC/NSK High Anti corrosion Bearings
ISC/NSK CASSTOP is a bearing realizing load-bearing performance with unique heat treatment technology for TBN-6H, a newly developed material showing corrosion resistance over conventional stainless steel SUS 440C . It demonstrates outstanding performance in acidic and alkaline environments such as fishing tools exposed to salt water, medical equipment using antiseptic solution, etc.
Much higher corrosion resistance exceeding SUS440C is achieved by the optimum addition of four chemical elements and fine adjustment on the content of other minimal elements.
Moreover, innovative heat treatment technology gives this material a hardness of HRC59.
Optimum internal design also enables this material to have the same or higher load carrying capacity as compared to SUS440C.
CASSTOP provides you higher stability and longer life than other bearing steels used in operating environments such as salt water, rain water and alkali.
Do you have an application where the bearing needs to perform in a wet environment? Contact Pacific International Bearing Sales.