Numerous rolling bearing types are classified according to their design features and uses. While the main load direction creates the distinction between radial and thrust bearings, the shapes of the rolling elements divide them into ball and roller bearings. Bearings are also classified by the manner in which the rolling bearings guide a shaft, for example whether they permit axial displacement. Bearings can guide the shaft in one or both axial directions or permit angular movement and therefore accommodate misalignment.
Most roller bearings consist of two rings with a set of rolling elements running in their tracks. Standard shapes of rolling elements include a ball, cylindrical roller, tapered roller, symmetrical and unsymmetrical roller barrel roller. See below for descriptions for the most popular bearing types.
Deep Groove ball bearings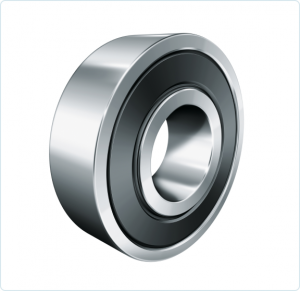 Both inner and outer rings have deep grooves (or raceways) with a radius only slightly exceeding the ball radius. Due to this curvature ratio the bearing can support high radial and axial forces. Deep groove ball bearings come open, shielded and or sealed. Deep groove ball bearings are the most commonly specified and used in multiple applications such as electric motors, power tools,generators, alternators and numerous other applications.
Single Row Angular Contact Ball bearings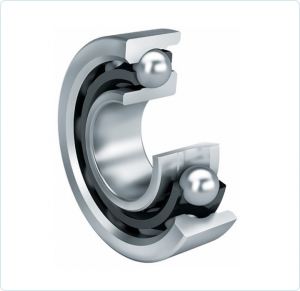 In single row angular contact ball bearings, the raceways are so arranged that the forces are transmitted from one raceway to the other under a certain contact angle, that is the angle between the line of action of the force and the radial plane. Contact angles are 15, 18, 25, 30, 40 and 60 degrees. Due to the larger contact angle single row angular contact bearings are better suited for sustaining higher axial loads than standard ball bearings.
Four-Point bearings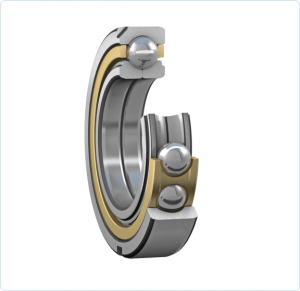 Four-point bearings have two circular arc shaped raceways on both the outer and inner rings. The centers of curvature are offset in such a manner that during radial loading the balls contact the raceways at four points. Generally these bearings are used exclusively where axial loads only are present.
Self-Aligning Ball bearings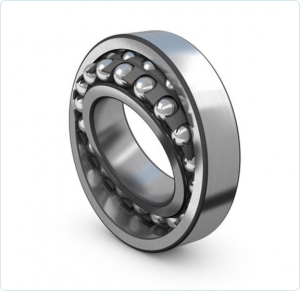 In self-aligning ball bearings, the raceway of the outer ring is spherical while the inner ring has two grooved raceways. The cage combines the two ball sets and inner ring to form a unit that can align itself within the outer ring. These bearings are primarily used in agricultural machinery, conveyors, woodworking and other machinery applications require the self aligning features.
Cylindrical Roller Bearings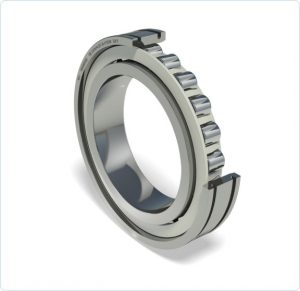 In the various types of cylindrical roller bearings, the rollers are guided on one raceway between retaining lips and linked by the cage to form a unit within this ring. The outer ring can be detached. The basic raceway shape of a cylindrical roller bearing is also cylindrical. Cylindrical Roller bearings are mainly used in power transmissions, vibratory machines, wheelsets of rail vehicles and machine tool spindles. As floating bearings they are effectively used in high output electric motors. The bearing kinematics and low friction make cylindrical roller bearings highly suitable for high speeds.
Needle Roller Bearings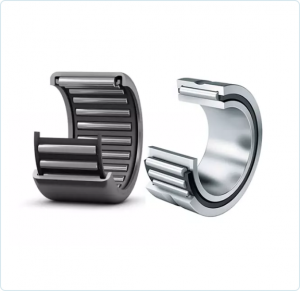 This bearing derives its name from the rolling elements which are long cylindrical rollers referred to as needle rollers. Formerly needle roller bearings were produced as full complement types and could only be used for relatively slow speeds. Today most manufacturers produce needle bearings with cages that accurately retain and guide the needles. Needle roller bearings are currently produced in numerous types as needle roller and cage assemblies, drawn cup needle roller bearings with one closed end or with open ends and bearings with machined rings.
Tapered Roller bearings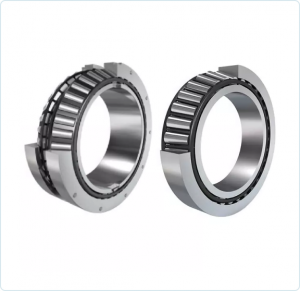 A tapered roller bearing consists of the following components – a tapered inner ring, tapered outer ring and a complement of rollers in the shape of truncated cones. A cage retains the set of rollers and the inner ring as a unit. Generally a tapered roller bearing is provided with a one piece pressed steel cage. Larger bearings may have a machined cage. Applications for tapered roller bearings include mechanical engineering, vehicle manufacturing, and machine tool production. The main attribute of this style of bearing is a high radial and axial load carrying capacity.
Spherical Roller bearings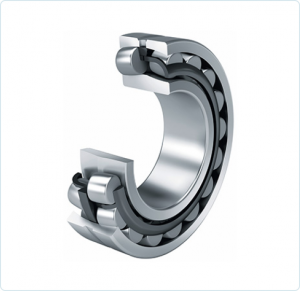 A spherical roller bearing contains two rows of barrel rollers , their axes are included to the axis of rotation of the bearings. As in the single row type the outer ring raceway is spherical. In cases of misalignment or shaft deflection , the rollers are capable of aligning in the outer ring raceway. Of all rolling bearings spherical roller bearings exhibit the highest load carrying ability. They are applied wherever high shock forces are to be accommodated and where misalignment and shaft deflection may occur. Applications include heavy support rollers, ship line shafts, rudder shafts, stone crushers, cranks shafts, vibrating screens and rolling mills.
Thrust Ball Bearings with grooved raceways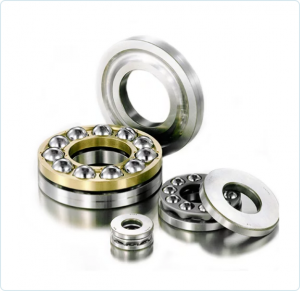 Single acting and double acting thrust ball bearings consist of two grooved washers and a set of balls within a cage. Under axial load and favorable rolling conditions the balls are guided in the apex of the groove. Conditions are less favorable when centrifugal forces push the balls outward at high rotary speeds and very low loads. The double acting thrust ball bearing is used for reversing axial forces. This bearing has two housing washers, two ball and cage sets and an intermediate washer. Thrust ball bearings are designed for supporting axial forces and used where the axial forces are too high to be transmitted by radial bearings or where rigid guidance is required.
Angular Contact Thrust Ball bearings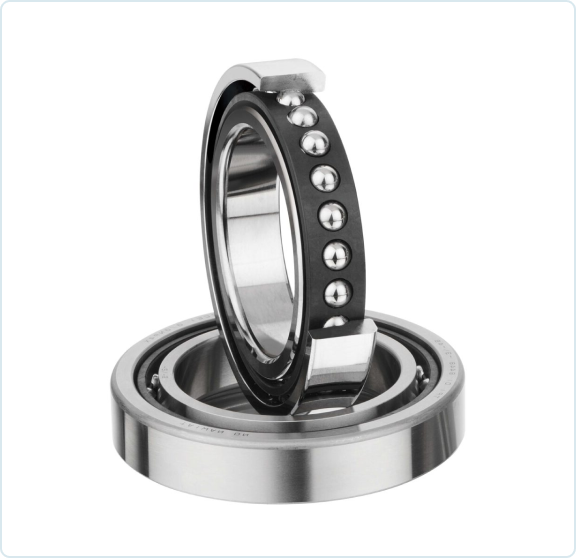 For high-speed machine tool spindles requiring rigid guidance, single and double acting angular contact thrust ball bearings are an option. Due to their use in machine tools, both designs are only produced in high-precision grades.
Slewing bearings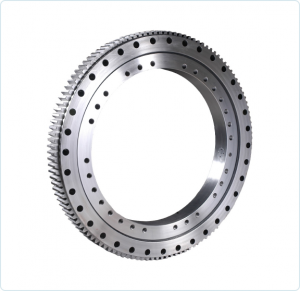 Slewing bearings are large roller bearings used for supporting dredgers, excavators, cranes and similar equipment. Slewing bearings can take radial as well as axial forces and tilting movements. Slewing bearings are mainly used in horizontal positions for transferring axial forces and large tilting movements.
Needle Roller Thrust bearings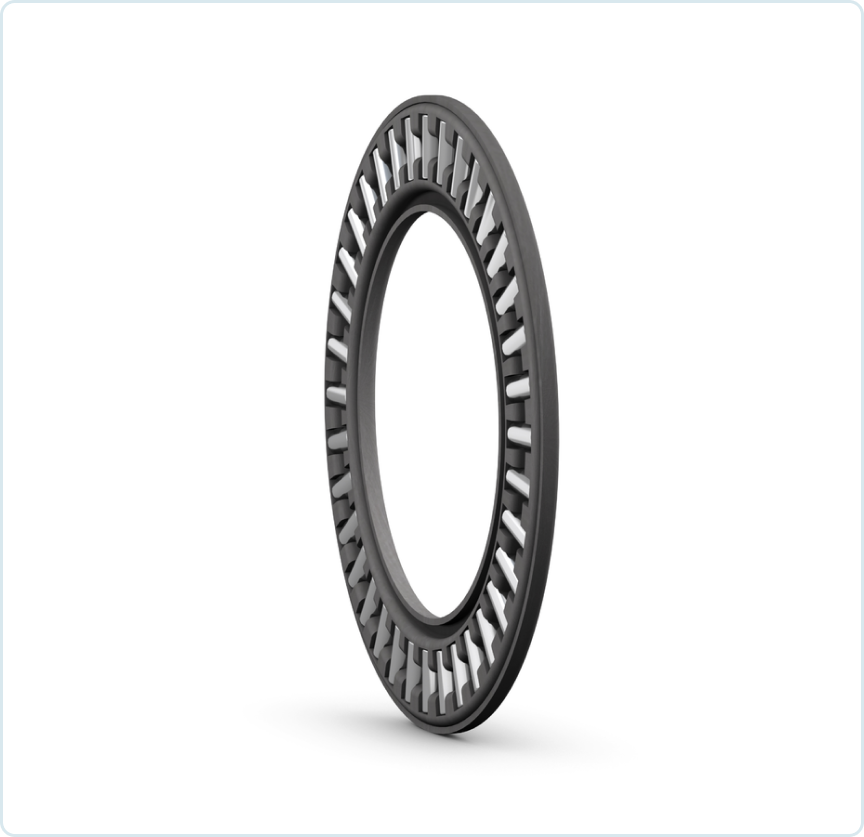 Needle roller thrust bearings are used where the available mounting height is small. Their design corresponds to that of cylindrical roller thrust bearing.
Learn more about selecting the suitable bearing, contact the PIB team today.