How to identify a bearing by measuring the key dimensions.
It's essential to determine the basic size starting with the bore or shaft dimension. Basic bearing dimensions (b) bore, (D) outer diameter, and (W) width are used as the starting point in identifying new designs as well as replacement bearings. Most bearings can be determined by their basic dimensions and often the part number is etched onto the outer raceway's face. Knowing the dimensions or the part number allows for an accurate replacement to exact manufacturer specifications for companies like SKF, NTN, NMB, and many others.
To determine a bearing's basic size you must measure the key dimensions – bore (inner diameter), outer ring (outer diameter), and width. Many bearings can be visually identified by the basic part number as etched into the face side of the outer ring. However, if the bearing is lacking the part number then follow these basic steps –
Step 1 – Clean Bearings
Conditions for measuring include that the bearings be cleaned of adhering grease or preservative agents. Clean the bearings with petroleum ether with the addition of 3% machine oil or acid-free paraffin. Bearings must be immediately oiled or greased following handling to avoid rusting.
Cleanliness is a critical factor for obtaining accurate bearing measurements. This is particularly true when using highly sensitive measuring equipment and measuring other dimensional factors such as radial runout of the outer ring. In most cases to obtain simple envelope measurement for purposes of replacement, you can get a pretty good idea of the dimensions by just using a set of standard calipers.
Step 2 – Measure Bore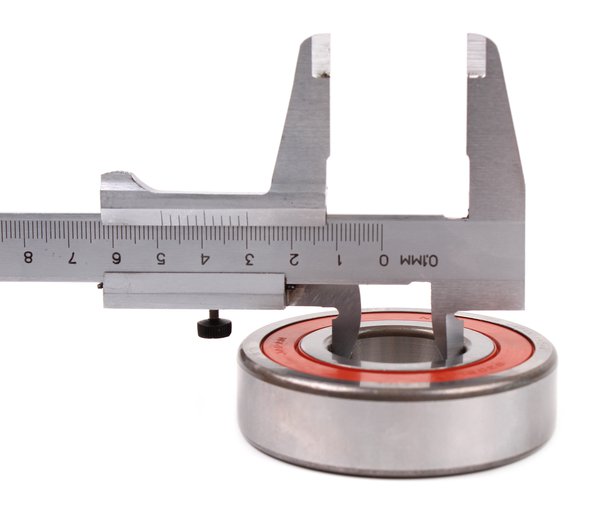 Measuring the bore diameter (b) you may use a two-point contact measuring instrument or a set of calipers with a dial or electronic indicator meeting the standard DIN 879. The bore is the arithmetic mean of the maximum and minimum diameters measured. The measuring zone is the ring width minus twice the corner (2r) at both sides. In other words measure at two points add those two numbers together then divide by two to get an accurate bore measurement.
Step 3 – Measure Outer Ring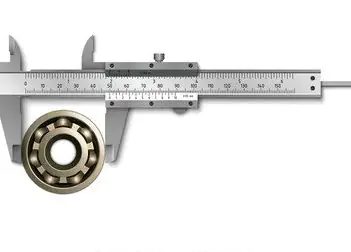 To measure the outer diameter(D) you may again use a two-point contact measuring instrument or set of calipers with a dial or electronic indicator meeting the standard DIN879. Normally the bearing axis is horizontal during the measuring. The measure zone is the ring width minus (2r) corners. Same as above measurement of bore width, take two measurements and then divide by two to get the accurate outer diameter.
Step 4 – Measure Width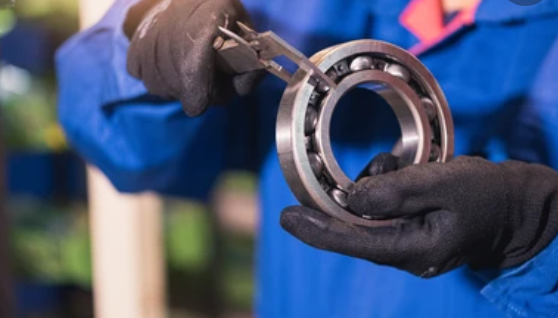 Measuring the width of a bearing (W) is the distance between its two face sides. The measuring stand supports the inner ring at three even points leaving the outer ring unsupported. For practical purposes lay the bearing on a flat even surface and open the jaws of the caliper contacting at two points. Check it at two different measurement points for accuracy and obtain the arithmetic mean by dividing those two measurements by two.
Take your measurements bore x outer diameter x width and reference an industry-standard catalog parts list to determine the basic part number.
Should You Measure a Bearing in Inches or Millimeters?
Since a large majority of bearings are manufactured in metric dimensions that is a good starting point. If the measurements do not seem to be true to the standard metric graduation then use the imperial method. In some cases, bearings have been developed with an inch bore and standard metric outer dimension. The 6200 series is a good example where several sizes are identified using the metric part number such as 62xx -8. In this case, the metric bearing having-8 is 8/16=.5000 inch bore and -12 is 12/16=.750 inch bore. And then -16 is 16/16 or 1.00-inch bore. With this being said most other series bearings are usually one (metric) or two (inch) dimensions.
How to Determine Which Bearing You Require?
PIB Sales is a worldwide bearing supplier/distributor with a large-scale bearing inventory to support most applications. PIB is an authorized distributor of major brand names such as SKF, FAG, INA, Schaeffler Group, NB, NMB, TPI, Barden, and also carries stock in brands such as Timken, SPB, NSK Koyo, NTN, and more.
With the help of PIB's certified bearing specialist on staff, determining the correct bearing for your application is effortless. PIB offers assistance with custom designs, materials, special custom bearings or selecting standard bearings that best meet the application requirements.
Please contact PIB to assist you in your next bearing purchase.